Strategic Communication in Total Rewards Management
Understand the international accounting standards that steer global compensation and benefits decisions.
Even the best rewards strategy will be compromised if employees and executives don't understand it. This course will help you effectively inform, persuade, and motivate various stakeholders, increasing the power of your rewards strategy and providing your organization with a competitive advantage when pursuing talent.
What You Will Learn
This course balances theoretical insight and practical application, ending with a case study that reinforces what you learn.
Along the way, you will gain key concepts of communication, as well as an eight-step strategic process for designing, developing, and implementing successful total rewards communication plans.
Learning objectives:
Learn why you need to strategically plan a communication campaign.
Discuss the characteristics of effective communication.

Understand the eight steps of the communication process.

Identify the appropriate communication channel for delivering your message.

See specific total rewards communications considerations and special situations.

Understand how to manage your communication campaign.
Who Will Benefit from This Course?
This course is designed to help compensation and HR professionals more effectively communicate about the rewards employees receive.
This course also is appropriate for people managers; some employers may wish to enroll multiple people managers to ensure consistent communication about rewards throughout the organization.
Course Credits
WorldatWork Certification:
Successful completion of this course and its accompanying exam can be applied to the Certified Compensation Professional, Global Remuneration Professional and Certified Benefits Professional certifications.

WorldatWork Recertification:
Course — 2.0 credits
Exam — 0.5 credits
CEUs:

Course — 1.6 credits

Exam — 0.9 credits
HRCI Recertification:
Course — 16 classroom hours

SHRM Recertification:
Course — 16 classroom hours
Based in India? Contact india@worldatwork.org for India-special course pricing.

Become a Member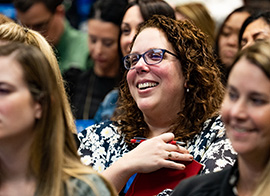 Members can register for this course at a special rate and gain exclusive access to research, publications and more!
Learning Options
Exercises are included throughout each section of the course for hands-on practice.
Course Schedules
Filter By
Reset
There are no classes scheduled at this time.
Please consider a different learning method or contact our Customer Experience Team to learn about other classes and schedules.
Phone
877-951-9191 (United States and Canada)
+1 480-951-9191 (other countries)
Monday-Friday: 8:00 a.m. - 7:00 p.m. EST
Email
Email our Customer Experience Team: customerexperience@worldatwork.org