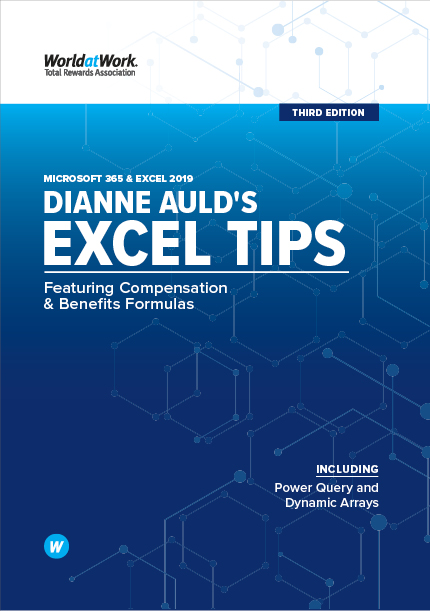 Dianne Auld's Excel Tips—Featuring Compensation & Benefits Formulas, Third Edition
-
{{ chosenProductQuantity }}
+
Details
Excel can be like a magic wand for compensation professionals – helping you increase productivity, slash work time and create documents that concisely convey your ideas. Never search Google or watch a YouTube video again to demystify a bewildering Excel function: In the third edition of this popular reference book, Excel expert Dianne Auld compiles a veritable encyclopedia of tips and tricks for making work smarter and faster.
Best of all, this volume is designed specifically for compensation work.
You'll get clear, detailed instructions on some of the most critical functions — such as using pivot tables, charts, regression, text, LookUp&Reference, Logical and other formulas and features.
This edition also includes new features, including using dynamic arrays, power queries, waterfall charts and exciting, time-saving formulas such as XLOOKUP, FILTER, UNIQUE and SORT.
Full of screenshots to hone your mastery and comprehension, this book covers every conceivable function you will need to manage your organization's compensation. Give your productivity a huge boost with this indispensable reference.
Policies
View our Return/Cancellation policies and more here.