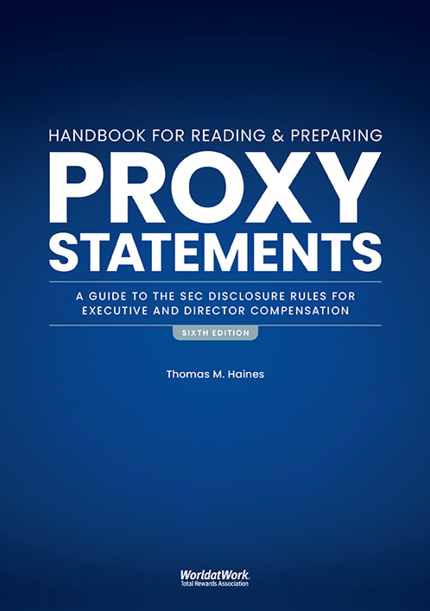 Handbook for Reading & Preparing Proxy Statements, Sixth Edition
-
{{ chosenProductQuantity }}
+
Details
Enhancements made over the years to U.S. Securities and Exchange Commission (SEC) proxy disclosure rules for executive and director compensation affect many publicly held companies. Understand and interpret what is reported today by reading the sixth edition of the Handbook for Reading & Preparing Proxy Statements. In 98 tightly-focused pages, you'll get step-by-step explanations of what needs to be reported and illustrations to help you understand current SEC regulations.
This guide shows you what to report– and what to avoid – and a variety of examples illustrate these concepts.
You'll discover:
What is considered when determining named executive officers.
Sample wording for shareholder advisory vote resolutions to approve executive compensation.
The elements necessary to discuss and analyze your executive compensation program in the Compensation Discussion and Analysis (CD&A).
Plus, you'll get clear direction on:
Compensation committee governance
Summary compensation table
Other tables and detail
And more!
Keep the Handbook for Reading & Preparing Proxy Statements by your side to save time and simplify the process for preparing your proxy disclosures and really understand and interpret the information other companies report.
Policies
View our Return/Cancellation policies and more here.