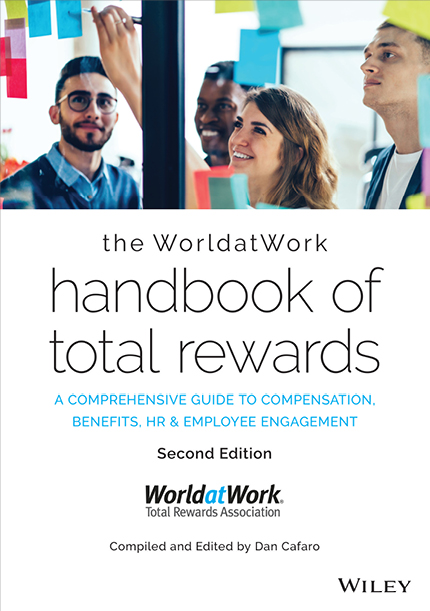 The WorldatWork Handbook of Total Rewards
-
{{ chosenProductQuantity }}
+
Details
Note: WorldatWork provides print copies of this book only. To purchase the e-book version, please visit Wiley or Amazon (Kindle Edition).
While the concept of rewards used to be relatively straightforward, changes in the workplace have disrupted that concept forever. Today, total rewards is far broader, extending beyond compensation to include well-being, benefits, development and recognition.
The WorldatWork Handbook of Total Rewards, now in its second edition, is updated to address these emerging trends while providing new insights on the fundamentals of rewards. In these pages you will get a well-rounded view, explore the many facets of each topic and get clear authoritative guidance. More importantly, you'll get practical strategies and solutions you can implement promptly.
Including easy-to-follow charts, graphs and illustrations to facilitate your mastery, The WorldatWork Handbook of Total Rewards shows you what steps to take and provides valuable advice for avoiding, preventing and minimizing common mistakes.
You'll get trustworthy information on subjects like:
Market-pricing and the battle for top talent.
How merit pay can reward employee contributions and encourage individual performance.
The challenges and trends in executive pay disclosures.
The issues your total rewards strategy should address.
Plus, you will get updates on newsworthy topics, such as corporate accountability in a diverse and inclusive world, how gig workers impact total rewards programs, and how organizations must adapt to changes generated from digital disruptions and advanced technologies.
The WorldatWork Handbook of Total Rewards is your definitive one-volume resource for charting your course through a rapidly evolving workplace.
Policies
View our Return/Cancellation policies and more here.