Reward Individuals and Teams to Maximize Performance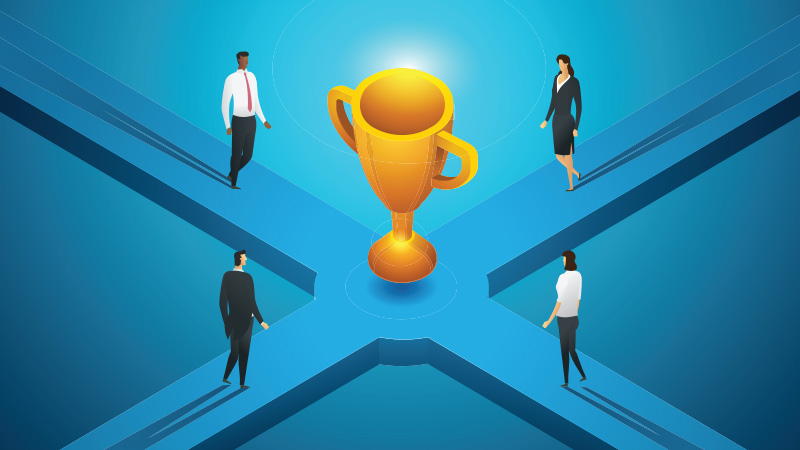 The strong individualistic cultural orientation that exists in the United States leads many organizations to focus on measuring, evaluating and rewarding individual performance. But organizational and group performance often requires a more collectivist mindset on the part of individuals.
More work is becoming interdependent, requiring the collaboration and alignment of the contributions of individuals. "What you measure and reward you will certainly get more of" is a principle that is central to motivation theory. Yet if all individuals excel but the group or organization fails to perform, the contributions of individuals become insignificant.
A team employing concurrent design to create the new best thing must realize customers will evaluate the quality of the product, not the achievements of individual team members. Whenever employees representing individual functions fail to find a way to integrate their perspective with those of others, there is little chance of success. The designers may fight for making a product the best it can possibly be. The financial analysts may fight for controlling the cost. The marketers may focus on creating something the customers will buy. These differing priorities set the stage for conflict and some way must be found to motivate each of them to find a consensus.
If each team member is rewarded based on the judgment of their functional supervisor's appraisal of their performance, the narrow and conflicting functional perspectives will be strengthened. On the other hand, if rewards for all team members are based at least partially on team performance, this creates motivation to find a way to collaborate and to find the best consensus. Professionals tend to focus on being the best in their occupation. That is the way they are socialized and trained. A financial analyst will tend to overweigh the relative importance of the cost of a new product because they view cost control as being their job. Designers and marketers will also tend to stress the importance of their perspectives in making decisions about product creation.
Part of the problem with conflicts such as this is that management does not make it clear that the most important objective is to create a product that will be successful. It should also be clear that the team members must use their individual expertise to create a single result — a product that has features that enables customers to meet their needs at a reasonable cost. A desirable product will have a high ROI. Some will cost more, but they should provide more value. Others may meet basic needs at an appropriate cost. In the end, customers are utility maximizers.
Rewards Strategies That Fit Interdependent Work
The most common rewards program is merit pay. The underlying principle is that those that contribute at high levels should be rewarded more than those who contribute less. But contribution must be measured appropriately. When someone receives an outstanding performance appraisal rating for doing his or her work in an excellent manner but does not contribute to the effectiveness of others or to the group, was that rating really warranted?
Direct sales representatives are often rewarded specifically for the revenue they bring in. If they are in fact operating independently without assistance from others and without being asked to contribute to the effectiveness of others (i.e., missionary work guiding less experienced representatives or assisting customer service personnel with addressing customer issues) then having 100% of their rewards tied to sales volume may be appropriate. But a director of sales may serve on the executive team and be expected to contribute to organizational performance, thereby making an "all individual" rewards package questionable.
Combining group and individual incentives with merit pay can provide motivation to not only perform well in one's role but to do so in a way that contributes to overall effectiveness. The members of the product design team mentioned earlier may have a multi-part rewards package. Merit pay tied to individual performance would be one element. A team incentive plan that ties rewards to the overall success of the product design could supplement merit pay and motivate members to ensure a focus on cooperatively achieving the project objectives.
Project management plans usually measure quality, timeliness and cost factors to determine project performance. Distributing rewards in an egalitarian fashion will motivate collaboration and integration of efforts. If the commercial success of the product when it goes to market is a concern, an incentive can be linked to results. This combination of plans rewards not only product design performance but product success. A product no one is willing to buy can hardly be considered a success. But if the decision to create the product was made by others it may be inappropriate to tie team member rewards to outcomes.
If employees are considered to be "in it together" by being members of the organization, it may be prudent to provide a "shared destiny" mindset. Profit sharing, gainsharing and other forms of performance-sharing plans are used to reward individuals based on organizational performance. Some of these plans result in current direct compensation awards, some in deferred income and some in equity ownership. Stock-based plans for all or most employees can provide a sense of ownership as well as membership.
Motivation, Not Manipulation
Offering incentives to employees to make an organization successful can be viewed as a bribe and/or as manipulative. But rewards strategies must be responsible from a business perspective. If the organization does well, this can create the financial resources for providing larger rewards.
One of the most difficult realities for an organization to deal with is having a high fixed cost workforce in times when revenues are highly variable. Base payroll and employee benefits are fixed costs, since reducing them is very difficult and typically viewed as a breach of contract (a social one if not a legal one). The 2020 pandemic devastated revenues across the economy, making meeting payroll impossible for some companies. The widespread displacement of people from their income was a surprise because "Black Swan" sightings are not expected, and therefore not planned for. As a result, both organizations and employees were forced to rely on government assistance. One of the outcomes of this pandemic should be that employees now realize that organizations must have the economic ability to pay in order to provide them with their standard of living.
But if organizations expect employees to understand their plight in bad times, they must offer the promise of rewards when employees contribute to organizational success. The 1990s provided sustained high levels of performance for most well-managed entities but real wages for the majority of employees did not rise. The compensation did rise dramatically for executives and highly paid people, a reality not lost on the employees who did not prosper. Unfair income distribution will promote cynicism and extended periods when people cannot seem to increase their standard of living will add emotional intensity.
When recovery occurs, it would be prudent for organizations to reconsider the value proposition they offer to employees. Not prospering during good times and suffering devastation during bad times is not a deal that employees will accept. Making variable compensation plans inclusive rather than exclusive may convey the shared destiny that would benefit an employer's brand and convey the willingness of organizations to treat employees as partners. If post-pandemic events result in dramatic increases in stock prices, ensuring that the appreciation rewards everyone may be the best medicine for healing the wounds incurred.
Employees who believe they will get what they deserve can be the most important asset for making the next few years prosperous.
About the Author
Robert J. Greene is the CEO of Reward Systems Inc.